DEPARTMENT OF PSYCHOLOGY

Assoc.Prof. G. Robins, Dr. P. Dudgeon,

Assoc.Prof. B. Rohrmann
GRADUATE RESEARCH METHODS

"

GRM"

<512-950> 2009


Overview: My contribution to this course

>>>
NOTE:
IN 2009, GRADUATE RESEARCH METHODS IS RUN BY ASSOC.PROF. G. ROBINS & DR. P. DUDGEON;
ASSOC. PROF. B. ROHRMANN IS THEIR GUEST LECTURER FOR FOUR SESSIONS.
Objectives
for sessions (4) to (6):
A brief discussion of principles underlying standard approaches to

data collection and their suitability for valid empirical research in different fields of psychology;
brief overview of main methods; extended introduction into surveys as the most common 'modus operandi', including questionnaire design and sampling issues.
Classes:

Semester 1, 2 hours weekly over 9 weeks, Wednesday 11am to 1pm, Room 1120 R.B.B.
My sessions are on April 27 and May 4.
Program:

The course 950 runs 9 weeks. Besides running sessions (4) to (6), I am also responsible for parts of session (9).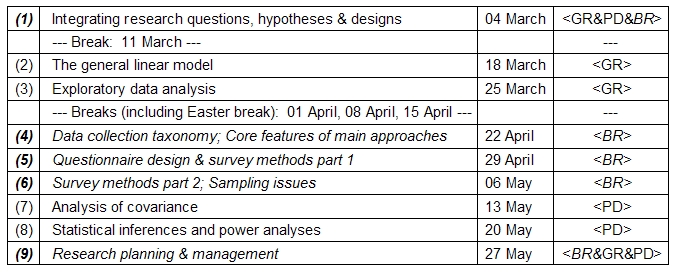 Content:

My main topics are: Research project design; data collection methods (focus: surveys); sampling issues; and research management.

Recommended reading & materials:
A list for sessions (4) to (6), with references from Psychology and related fields, will be distributed in my first session. (There is no single prescribed text, nor a reading pack).


Note: In previous years I run a much larger part of GRM and made most material available on my website;
click
grm-mat
to find a reprint
.


Assessment:
There is no exam specifically for my sessions; however, the assessment tasks provided by Garry Robins & Paul Dudgeon will include issues of data collection methodology.


Contact & consultation:
Wednesday, 15:00-16:00 <room 803>.

E-mail: mail {at} rohrmannspace.net